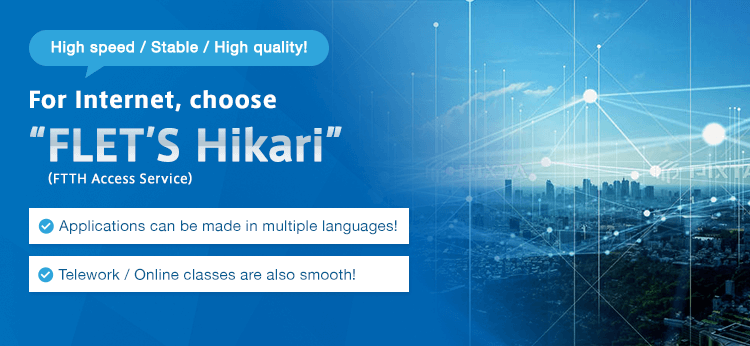 Share of internet contracts in West Japan (Hokuriku/Tokai/Kansai/Chugoku/Shikoku/Kyushu) as of 3/2018 (Based on the "Public Quarterly Data Report Concerning Contract Counts and Shares for Telecommunications (4th Quarter of FY2018 (end of March))" issued on June 21, 2019 by the Ministry of Internal Affairs and Communications.
For applying and informations
For application and inquiries regarding the service
0120-064-337 0120-064-337
Languages offered: English, Portuguese, Spanish, Chinese, and Korean
Service hours:

9:00AM~5:00PM, excluding Saturdays, Sundays, and holidays, year-end and New Year's holidays 12/29~1/3
You can call us from cellular telephones as well. Please verify the telephone number you have entered before calling.

"FLET´S ADSL" service in "FLET´S Hikari" available area is going to end as of January 31, 2023.
★Applications of new contract for "FLET´S ADSL" in "FLET´S Hikari" available area (including change of the service type or speed plan) ended as of June 30, 2016.
Learn more about "FLET'S Hikari"